TOTALLY DISCRETE HAIR LOSS CONCEALMENT 
Perfect Locks™ Hair Fibers offer you a cost effective and instant benefit hair loss solution for thinning hair. Regardless of the root cause of thinning hair, from Alopecia to naturally genetic hair loss.Perfect Locks™ Hair Fibers help to disguise thinning areas of the head, no matter what or where your hair loss pattern is. They are designed to cling to and work remaining hair, building back fullness, thickness and density by clinging to that hair. They are feather light in weight, not straining your existing and fragile thinning hair. 
Being talc free,Perfect Locks™ Hair Fibers won't retain moisture like talc-based products do…meaning no dandruff byproduct! You'll be ready for photos in less than 30 seconds, with them being completely undetectable from inches away. 
AT A GLANCE: 
Keratin fiber system 
Made with naturally occurring iron oxide minerals 
100% talc free, made with just 3 ingredients! 
Instant coverage of thinning hair. 
Created the appearance of thicker, fuller hair in less than 30 seconds! 
Designed to be used anywhere on the hair and scalp as fibers easily cling to and wrap around existing hairs. 
Fibers electrostatically cling to hair, so they won't fall out until you wash them out! 
Apply fibers to dry, styled hair for best results. 
Can be used to disguise gray and white hair 
People tested, never animal tested.Perfect Locks™ is 100% cruelty free. 
WHO IS THIS PRODUCT IDEAL FOR? 
Men in the early stage of hair loss with thinning hair and even some small bald patches. 
Women suffering from thinning hair and loss of density 
People undergoing hair transplant surgery who are looking for a natural look during the process 
People suffering with Alopecia or even temporary medically related loss in hair diameter and density. 
INNOVATIVE KERATIN FIBER SCIENCE 
Perfect Locks™ Fibers utilizes colored keratin fibers of the same composition of real human hair. These keratin fibers have a natural static charge that causes them to cling to each other, as well as the existing hair follicles. 
EASY TO REMOVE WITH NO BUILDUP 
Perfect Locks™ Hair Fibers do not stain or buildup on the scalp or hair fibers. At the end of the day simply shampoo and wash them out of your hair and your original hair is restored. 
GENTLE TO USE, IT DOES NOT DAMAGE HAIR 
Perfect Locks™ Hair Fibers is not made with any ingredient that can clog the pores or add weight and stress to your existing hair. Made with minimal ingredients, it won't build up on the scalp…helping to maintain the healthiest scalp conditions to slow the process of hair loss. 
APPLICATION AND USAGE: 
Designed to be as effortless daily, it takes less than 30 seconds to apply the product and go! Following your typical morning shower routine, dry and style your hair as desired. Pop the cap and simply shakePerfect Locks™ Hair Fibers on areas of thinning hair and noticeable loss of fullness. Pat gently and use a brush to work the hair fibers through. In fact, the more you brush, the thicker and more natural looking your result becomes. Finish and set with a shot of hairspray and you're done! 
Customers Love It
Hair Building Fibers by Perfect Locks Reviews
Customer Reviews
Write a Review
Ask a Question
Filter Reviews:
confidence
Perfect Locks
Hair
scalp
color options
idea
locks
volume
fullness
back
01/20/2021
Julia

United States
I recommend this product
AMAZING Product
When I was younger my hair was really thick and full. But after having my daughter and having multiple surgeries, my hair got thinner overtime. Which took a toll on my confidence. I hated how thin and sparse my hair looked! I tried teasing my hair or using dry shampoo to create fullness, but it only did so much. After finding Perfect Locks hair fiber, this fixed it right away! My main problem area is the back of my scalp, but after using this product it looks like my old hair! Thank you Perfect Locks for creating this product! This is a really a confidence boosting product!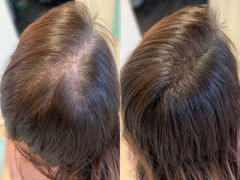 06/06/2021
Anonymous

United States
I recommend this product
Fabulous! Better than expected!
Newbie to this product and, I have to admit, skeptical. I really did not expect to love this, but the truth is, it is everything they say! I gave it a day off (from work) to play with. Started with the pump attachment because it seemed like a great idea. After 45 minutes of tiny little puffs I just wasn't impressed. So I changed out the puffer for the sifter. I was thinking it would be too much, and too uncontrolled. But it wasn't - it was just right. So next I wanted to REALLY give a good review so after a few hours I shook some more in to see how much was too much. I really never found that amount, but I DID discover that in getting careless with the application it ended up on my face. So my only advice is, put it on BEFORE your makeup. (And be sure your hair is dry.) Also, somewhere in the middle of the day I went for a bike ride - with a hair cover, visor and helmet. I was a sweaty mess and did not expect the product to hold up to this - but it DID! My scalp did sweat ALOT and most of my hair was soaked, but as it dried it just got fluffy! I tried the spray that comes with it. But I did not master this - it seems counter intuitive - make hair fluffy/increase volume then compact it down. I did not have the patience for this experiment. So I just don't use it. I left the product in over night and my hair still looked good in the morning. (Even after that sweat!) My pillow cases are not white, and I do wonder how much may end up there by morning. Not a big deal in theory, but you may want to experiment , if it could matter ;) It DEFINITELY made my hair look and feel thicker, fluffier and prettier. It washed out easily, did not irritate my scalp and was not noticeable (except in a good way!) I definitely recommend this product! It gave me back my confidence! Thank you!
Hello Doll, We are so extremely happy with your experience that you shared with us. This review is very helpful, as well as we love your feedback. Thank you so much for taking the time to write this review for us. As well as we are happy you were able to find a product that gives your confidence back. We do appreciate you shopping with us! Please feel free to contact us if you have any questions or concerns at 1(888)290-4771 or email us at support@perfectlocks.com. XO✨
03/26/2021
Brittni P.

United States
I recommend this product
Amazing
I purchased this product for my grandmother that has been thinning all around. I was able to show her how to use the kit and after one try she is a professional. She is glowing and loving this product from Perfect Locks. They have some many color options which made the processes nice and easy.