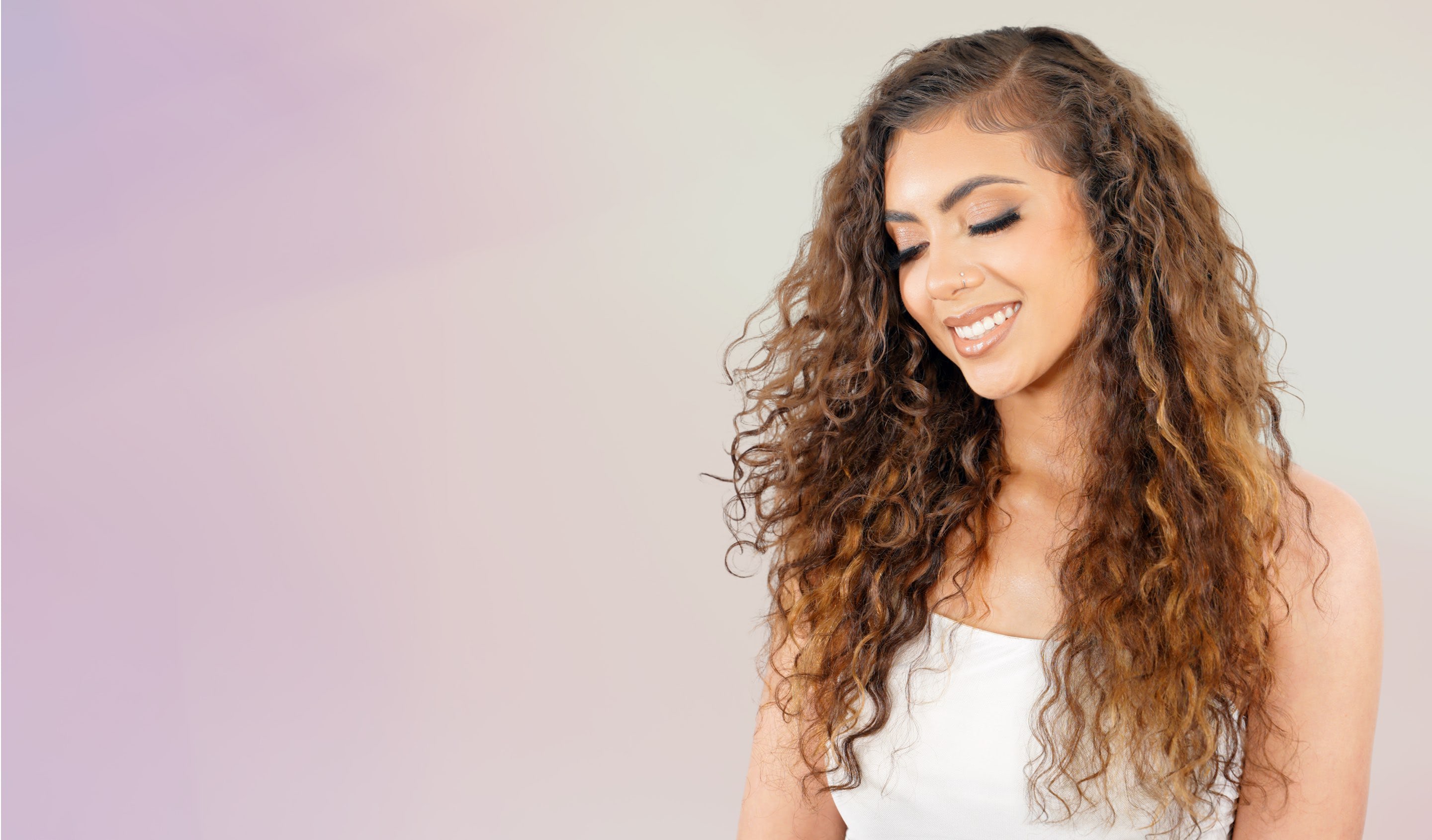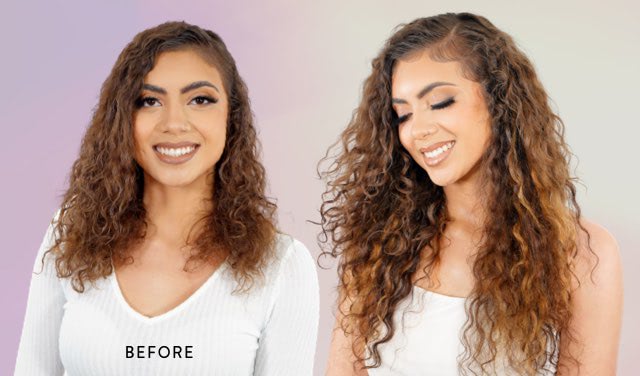 Curly Hair Extensions
We offer the largest and most diverse collection of curly hair extensions. Our curly Remy human hair is luscious, and full of life. You can flatten or enhance these curls with ease, how creative are you? lf you're looking for naturally curly hairstyles with true flexibiltiy, look no further.
Curly Reviews
4.91
/ 5 stars,
368
reviews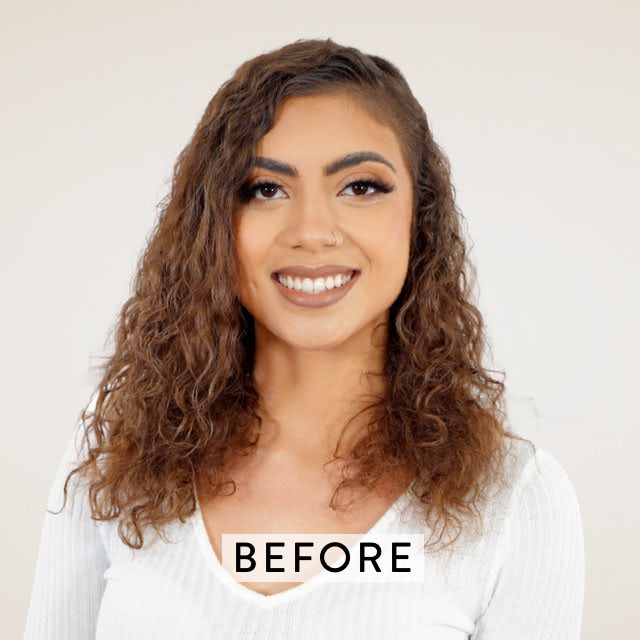 Make your curly hair dreams come true
Curly hair is a blessing! And gorgeous curly hair is the holy grail of hair extensions. However, we know how hard it is to find extensions that can match your natural texture. Most hair extensions comapnies use non-remy, straight or wavy hair that doesn't have a natural curl to begin with. Because of this, they achieve curls with chemicals. At Perfect Locks, we only use the finest remy curly Indian hair to create our extensions. Our curls are real, natural, and will last. Our company was founded on curls, and over the years we've refined them to our version of perfection - curls with bounce, flexibility, and longevity. You have the freedom to style our hair using heat tools and know that the natural curly texture will remain after washing or wetting the hair. Our curly hair can always be more defined by using high quality moisturizing shampoo & conditioner and a curl defining gel.
You'll love the touch of the curls and how confident and gorgeous you will feel. Looking to switch it up? Jump on the effortless beach wave trend with our wavy hair extensions, our most popular texture. Or go fully straight with our straight hair extensions, soft tresses with just a slight bend.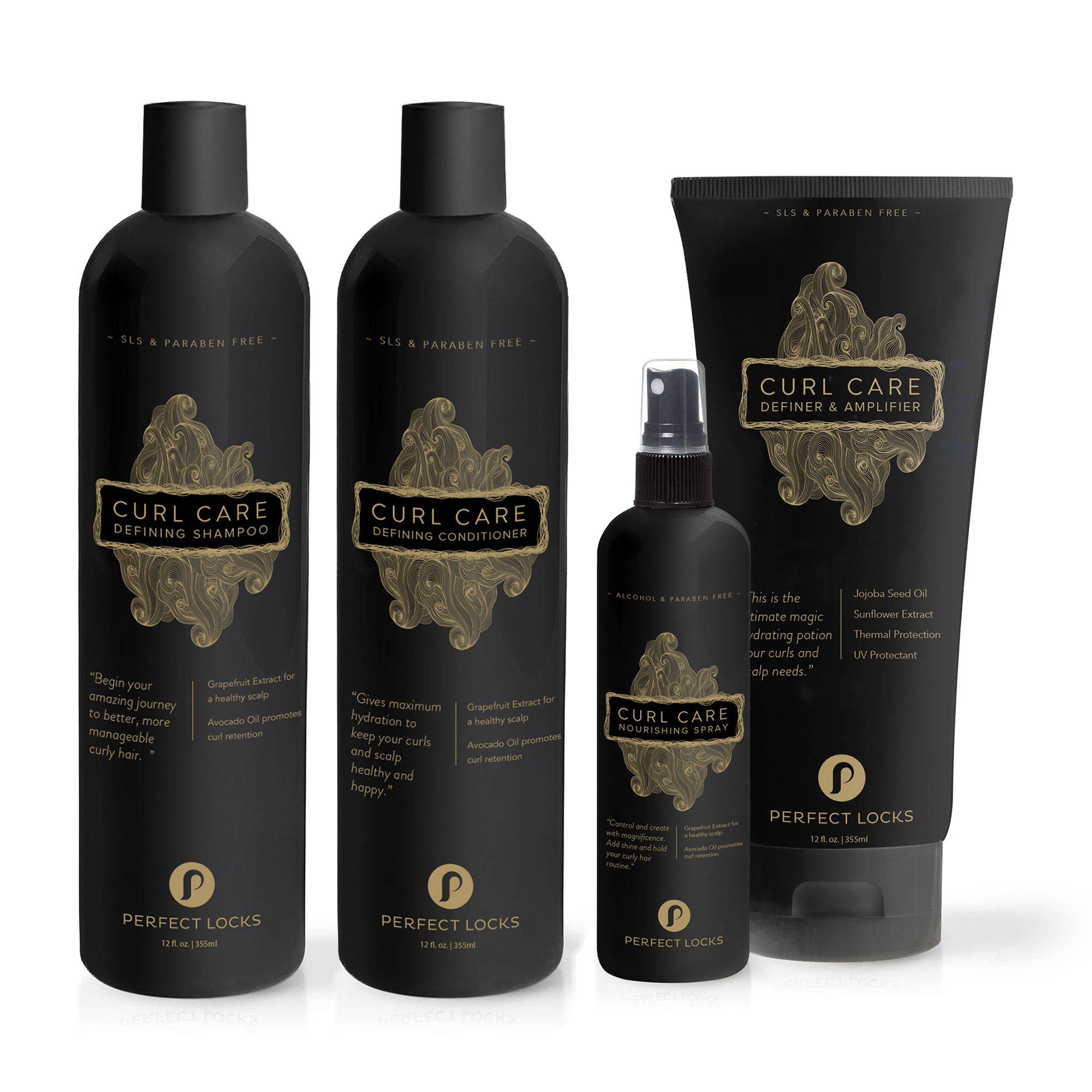 The secret to manageable curls that turn heads is hydration using the right hair products. Fortunately, our team at Perfect Locks consists of curly hair specialists with years of expertise in industry. We've created the ultimate line of curly hair products, specially formulated to work with high-quality curly hair extensions. WIth ultra-nourishing, natural ingredients, you'll get ultimate moisture and definition. Your natural curly hair and curly hair extensions will be luscious and full of life like never before.
You'll love running your fingers in these curls, and you'll love how you look and feel with gorgeous curly hair. Looking for more kinky or relaxed straight hair? Try our textured hair extensions. Or are you wanting to switch it up? Try our naturally straight hair extensions, soft tresses with a slight bend. And you can jump on the beach wave bandwagon with our wavy hair extensions, our most popular and most flexible texture.
All curly hair naturally lacks moisture, therefore it is important to be putting it back in when you wash your hair. Shampoo & conditioner is the foundation to everything when it comes to your hair. It is vital to curly hair to be using a moisture foundation.
Minimum once a week. Washing curls any less than that is what causes dryness. Moisture = water. If you are experiencing dryness in your hair and only washing your hair twice a month, it is because you are only putting water on your hair twice a month.
No, this is a common beauty myth. Different textures (fine vs. medium vs. coarse) need different products. The diameter of your curl pattern is not as important as the texture of your hair.
By washing at minimum once a week. When you wash your hair and it feels fresh & nice, but a few days later it starts to feel crispy - that is when it is time to wash again. It's your hair telling you that it has dried out. You cannot re-moisturize by putting more products on.
Frizzy hair is hair that is trying to moisturize itself. Hair pulls moisture from the environment and puffs up. Properly moisturized hair does not frizz.
Co-washing is a method for restyling hair, it does not replace shampooing. It is like trying to wash your body with lotion.
Yes! They are 100% human hair so they can be heat styled as desired. Always remember to use heat protectant when heat styling. However keep in mind that just like natural curly hair, excessive heat can cause damage & loosen curl pattern over time.
Always handle extensions gently & with caution! Remember, it is human. hair and is susceptible to damage just like your real hair. Always use quality pH balanced, sulfate free shampoo & conditioner when washing and heat protectant when using heat. Avoid oils as they are a sealant and will prevent moisture & hydration from entering the hair, as well as preventing any styling products from functioning to their full potential.
Curls should always be styled with a gel. To refresh without washing (shampoo & conditioning), apply more gel to dry hair by squishing and scrunching it in. It will reactivate the old gel. Do not re-wet (unless washing) as this will result in odor & frizz.
CUSTOMERS WEARING Curly Hair Extensions
Show us your Perfect Locks, upload & tag @perfectlocks on Instagram