product details
Whether you are creating your own wigs strand by strand, custom braids or even your own temporary hair pieces, Perfect Locks starts you with premium quality hair. Perfect Locks bulk hair offers you maximum versatility and longevity with our authentic Virgin hair, it has never been treated or processed in any way for a perfectly aligned and intact cuticle on every strand. Available in 4 different lengths and 3 textures, each bundle is approximately 4 ounces of Virgin hair.
Hair type: 100% Remy human hair
Longevity: 6 to 18 months dependent on application
Application: Wig-making, braiding, and fusion
Wefting: Hair is completely loose and held together by a string
Quantity Needed:

 

1-2 packs under 18", 3+ packs 20" & longer
Weight:

 

Approximately 4 ounces
Important: This is 100% human hair with the cuticle intact, and Remy single-drawn with varied gradation in length. Please make sure you do not invert strands when using this hair, this can lead to issues with tangling and matting.
100% Remy Human Hair
Our products begin with the highest quality virgin Indian human hair available. Cuticle intact and ready to slay.
Ethically sourced
We responsibly source Indian hair from the largest temple in India to sustainably produce our products.
Naturally Straight Hair
Silky straight hair with slight body and subtle texture. Add water for a deeper wet n' wavy look.
Natural Ends, Natural Look
This product features natural ends to ensure the hair looks as natural as your own hair.
Can Be Colored
Made from premium quality pure virgin hair that can be dyed just like your own hair.
Yes you can. We only recommend dying the virgin #1B color, they are completely natural and will take color easily from to 2 to 3 shades. If you need to go lighter then bleaching may be involved, in which case we would recommend you consult a professional. We do not recommend coloring hair that's already been colored. When doing any color service to the hair, perform a test strand first to see how the color processes with your formula being used. Once you confirm the results and processing time are correct than you can carry on with the full application of color desired. Keep in mind that the lighter you go it may slightly loosen the hair's natural curl pattern. This is something you can check for after completing your strand test as well.
With proper care and maintenance, this overall product will last you at least 1 to 2 years with proper care. We have customers that have been using the same hair extensions upwards of 4 to 5 years. We recommend only using the highest quality
hair extension products
for maintenance.
We use 100% authentic Remy Indian hair in all of our hair extension products. The virgin #1B color is natural, other colors are also available for purchase. The cuticle remains intact and aligned which allows the hair to be styled naturally with heat tools so it blends seamlessly with your own hair.
Yes, absolutely! You can flat-iron or curl this hair easily. Since it's natural Remy human hair, it will hold a curl very well. To revert back to the original state, simple wash and dry the hair. Wet with water and scrunch for a deeper wet 'n wavy look.
We recommend products that don't contain any sulfates, parabens, or ammonia. High quality hair care products made for hair extensions are necessary to keep the hair moisturized and hydrated. Our
inspire line of products
is a perfect solution
Bulk hair is used for different types of braiding techniques and creating your own fusions. Since bulk hair is comprised of individual hair strands, it can also be used for wig making or other strand by strand application methods.
The bulk hair is held together by a rubberband. Once the rubberband is removed, the hair becomes completely loose. When working with bulk hair, it's important to keep the hair group together. Never invert the strands, the cuticle on the hair must all be aligned in th same direction as it's original state.
This product is only available in the virgin #1B color, which is a beautiful combination of off-black and dark brown.
Yes, you are able to return our bulk hair as long as it is still wrapped in the rubber band and it is with in our return and exchange policy.
Yes, virgin Indian hair is the highest quality hair for achieving the ultimate in realism and longevity.
For small individual braids or for micro braids: 2-3 bags of 18inch or longer. The longer your natural hair is, the longer length hair you should buy so there's enough left over on the end for fullness and styling. When braiding you should fold the human hair in half if possible, or maybe have one end a little shorter than the other to extend the length of the braid, and then braid the hair about 1 inch past the length of your hair. Thus, the longer human hair you have, the more length and the fuller your human hair braids will be. If your hair is really long, you should buy longer hair. You hair will look better if you go longer on the length.
Braiding is a learned skill and an art. Since this is a high quality product, we recommend going to seek the services of a braiding specialist to braid your hair. There are also many videos on Youtube which demonstrate many techniques.
PROTECT YOUR INVESTMENT
Other customers shopped these hair care goodies
Customer Reviews
Write a Review
Ask a Question
Filter Reviews:
Hair
love
quality
Perfect Locks
price
bundles
bulk hair
hairstyle
investment
packs
07/13/2020
mayelin e.
United States
I recommend this product
authentic hair
beautiful soft manageable hair
06/29/2020
Richele M.
United States
I recommend this product
Curly Bull Hair for braids
This was my first time using perfect locks for braiding and this hair is amazing to say the least! Great quality great curl pattern and consistency.
Hello love! We are very happy to hear that you love our Curly bulk hair. Please tag us in any photos we'd love to feature you all on our website and/or social media platforms. Feel free to contact us anytime, at 1-888-290-4771 or support@perfectlocks.com XO
05/30/2020
Anonymous
United States
I recommend this product
Good Quality hair. Color ???
The hair is beautiful. It is soft and doesn't tangle. However, I ordered a 1b and received brown hair. I called customer service and was told that this is normal due to the fact that the hair is human and natural and that i could dye it. I dyed the hair (which was a pain in the butt). It turned out great.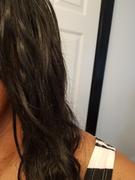 Hello Gorgeous, I am glad to hear that you were able to contact us and ask about the color. Yes, here at Perfect Locks or virgin 1b can vary to a medium brown or dark brown and an off black. This is one of the main reasons we allow our customers to put down in any notes on their order when placing it. For example, you could put you are looking for a darker virgin 1b and we then would be able to find the best match for you. I hope this information was helpful for you, please let me know if you may have any other questions or concerns. I do hope you have a great day!
04/20/2020
Anonymous
United States
I recommend this product
Great
The hair is nice soft and durable.
Hello love! Thank you so much for taking the time out of your day to write this review for us. We are very happy to hear this feedback. Please tag us in any photos we'd love to feature you all on our website and/or social media platforms. Feel free to contact us anytime, at 1-888-290-4771 or support@perfectlocks.com XO
12/13/2019
Lucia B.
United States
I recommend this product
The best ever. Perfect as its name
Iam feels so happy with my only favorite company where i can buy my hair its the best high quality pure natural hair ever any textural , and coloring hair too . On bulk hair wao i love it , very softer, not splitting at ends, natural shines, natural color , they always send me beautiful, the personal that working there so nice, . Thanks God , God Bless my Perfect locks company.
Hello Lucia, We want to thank you for taking some time out of your day to express how you feel about the Perfect Locks brand. We are happy to hear that you have been enjoying the brand, we strive to keep our customers happy. We're happy that you will continue to shop with us! We hope you have a great day!
11/16/2019
Tiffany F.
United States
I recommend this product
Gorgeous as always
I have been using PerfectLocks exclusively for awhile now and I can not recommend them enough. Most recently I had three bulk bundles custom colored for micro braids. The colors came out beautifully and the quality of the hair is great. The bundles are always full and soft.
Hello Beautiful, Thank you so much for your positive feedback! We really appreciate you as a loyal customer and we are so happy to hear that we were able to help you achieve that perfect look to feel like you! We are always trying to play a positive role in people's lives, whether it means finding that perfect style or piece to fit their needs and are beyond excited that we were able to do that for you! Have an amazing day!
10/29/2019
Anonymous
United States
I recommend this product
Wavy bulk for microbraids
I really like my wavy hair. I ordered 3 bundles and they were all different shades of brown with different wave patterns. Once installed and I washed ends then it actually got super wavy almost curly even. My only gripe is that it is not super thick. So not really double down hair which is when there are no wispy ends but overall pretty good and looks really pretty. It was true to length and generous bundles. I would buy again and have them dye black next time.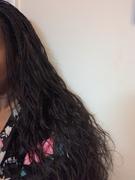 Hello Gorgeous, We are glad to hear that you are enjoying the bulk hair you purchased from us. As everything is single drawn here at Perfect locks, textures and color may vary at times and we pull the best match we have in our inventory. For any future orders with us, you can always request for us to send pictures before we ship out your item. You can also write notes on your order and state that you are looking for a darker bundle closer to black and if we don't have that a rep would give you a call to let you know. I do hope that you find all this information helpful. We are happy to hear that you are happy with the look and we hope to have you as a loyal customer. You have a great day!
09/24/2019
Lucia B.
United States
The best quality hair extensions
The best company ever , beautifully softer, natural pure virgin hair extensions only perfect locks have it , i love perfect locks made my dream come true., wavy bulk hair for braiding wao healthy softer natural virgin hair . Thanks perfect locks, God Bless.
Hello Lucia, Thank you so much for taking the time to write a review. We value loyal customers just like you and we are so glad our hair products are working for you. We appreciate your feedback and will continue and also forward this to our manufacturer/management team. I hope you have an awesome day!