Hair Extension Inspiration from Indian Models
This entry was posted on August 6, 2011 by Perfect Locks.
Perhaps right now you have a colored hair color that you are crazy about, but you want some extensions for added color and length. You're in luck because we have Straight Colored Indian Hair Extensions available to add to your gorgeous hair color. We also offer curly and wavy extensions as well! Our Indian extensions are colored virgin human Indian hair with consistent color and it is also available curly or straight.
Did you know that often times celebrities and models wear hair extensions? Many in fact have stunning locks and for the times when they desire added length, extensions are the perfect addition. Gaining inspiration from the following Indian models, you can see how extensions not only add to their beauty, but give them several options to choose from when participating in photo shoots and events.
Malaika Arora Khan not only is beautiful, but she has a glossy and red hue in her hair that is attainable with extensions. Malaika is known for films such as Kaal, The Hero, Kaante, Dil Se, and Aaja Mari Jaan.
In this photograph she flaunts her side pony tail and side sweeping bangs. Her hair color looks amazing with her mauve lipstick and glowing blush on the apples of her cheeks. Her glowing look makes her hair color and style look all the more beautiful. In addition, make your new colored extensions stand out with a silk top that has a deep shade of royal purple, like Malaika.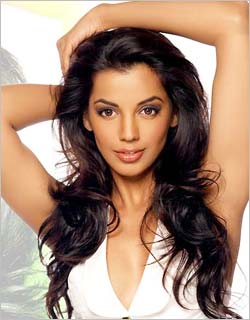 Mugdha Godse is a well known model who has spent over five years participating in modeling, press ads, music videos, and commercials. She was recently signed as a brand ambassador for Mysore Sandal Soap.
There is no doubt that Mugdha has most likely used extensions for her model shoots and with her flowing hair, her curls are certainly sought after. Her shimmering and loose waves can be accomplished with our wavy colored hair extensions.
Pooja was crowned Femina Miss India World in 2009. A beauty queen at heart and in real life, Pooja Chopra keeps herself occupied with fashion events, public appearances, shoots, and endorsements. Her sparkling personality and hair easily wins the crown over.
Of course she must keep herself polished and beautiful to uphold her image. Part of her beauty regime must include her hair, which most often is seen short. However, with extensions, Pooja's hair can change length, style, and color. Her fans can be surprised by her ever changing fashion leap and touseled locks.
All three of these models infuse beauty and hair inspiration. Without hair extensions, short hair would remain short, and added hair color would be harder to achieve. Instead of maintaining your natural locks when they are long, you have the option to go short, long, or curly with extensions. Pooja, Mugda, and Malaika give us a glimpse of how our hair can look with hair extensions - wispy, wavy, or even wild.
Who is your favorite Indian model? Tweet with us and tell us who you love!