Dress Like Halle Berry with a Bit of Edgy Style
This entry was posted on December 7, 2011 by Perfect Locks.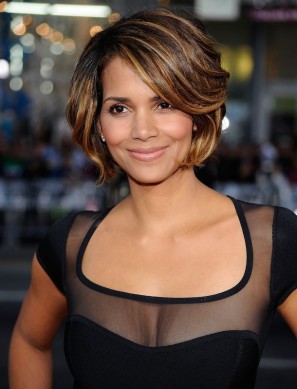 Halle Berry is one classy lady. Whenever you see her in the magazines you'll most often find her in a chic and black dress. After all, a little black dress never goes out of style. You can wear it to virtually any event and dress it up with gorgeous accessories.
Halle Berry knows how to dress elegant but also loves to  incorporate a little bit of edge. The reason she is so stylish may have a little bit to do with her past beauty experience. Before becoming an actress, she entered into several beauty contests, finishing as the 1st runner-up in the Miss USA pageant in 1986. Who would have guessed?
You may know Halle Berry from movies such as The Flinstones, X-Men, Die Another Day (James Bond,) and more. Currently you'll find her fighting for the causes she supports and taking care of her adopted daughter, India. According to Wikipedia, Berry is one of the highest-paid actresses in Hollywood, earning $10 million per film.
A few of her upcoming films include New Year's Eve and she also is playing one of the
leads in the film Cloud Atlas, which is scheduled to be released in October 2012. She stays very busy in her film and personal life, but she still maintains a fashionable appearance.
So why do black dresses look so nice on Halle? Well, she knows how to accessorize them right. On her wrist on the picture to the right, where she is at the Golden Globes, you'll find sparkling bracelets. They add the perfect amount of glamour to her black ensemble. She also has diamond earrings in her ears, another lovely and simple touch that glams up a black dress.
This black dress is unique because the top looks like an edgy bra or corset. This stylish actress isn't afraid to go the distance and try different black outfits. Occasionally you'll see her in other trendy outfits too. If she's really feeling edgy you'll  find her wearing a leopard print top and pair of jeans. Or - catch her on the red carpet wearing a low scooped neckline and sparkly pumps.
Halle Berry definitely knows how to bring on the glam factor. With her new films on the way and her cute hair cut, I'm sure we could learn a lesson or two on how to incorporate her style into our lives, don't you think?!